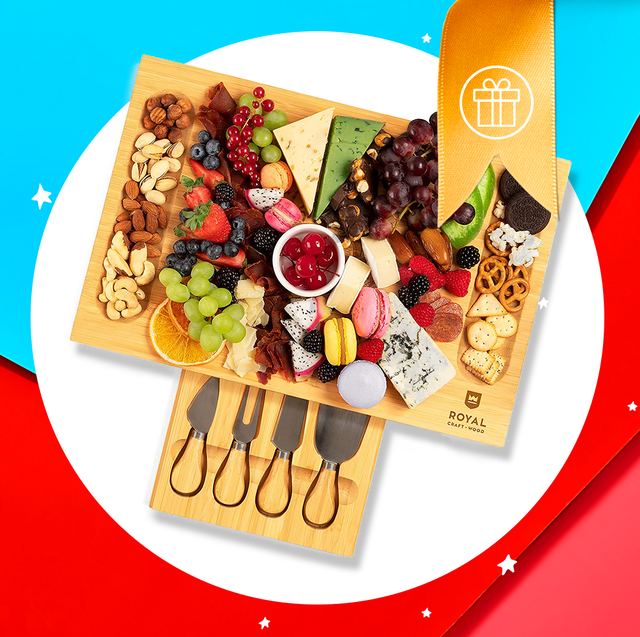 Courtesy
After memoizing their coffee shop order and being in tune with what they're currently watching on Netflix, knowing the zodiac sign of each of your loved ones is practically a modern day essential. By now, chances are that if you haven't downloaded Costar, learned to read tarot cards, or visited your birth chart for cosmic guidance, someone in your life is doing it for you.
And, why not? Whether you fully live by the rules of astrology or simply find reading your daily horoscope to be a fun past time, a little guidance never hurt anyone. And, during this time of the year, all of us could use some help when it comes to the eternal question: What do I get everyone for the holidays?
Because you're reading this right now, chances are that you have a *bit* of a spiritual side—or, maybe you're just curious. Either way, consider this your sign to surrender yourself to the universe, and let them do all of the holiday gift shopping for you. There's something for each zodiac sign, from a custom necklace for your attention-loving Leo cousin (you know it's true, and you gotta love them for it) to a trendy neon sign for your cool Pisces BFF.
Below, check out all the best gifts to get your family and friends based on their zodiac sign and the personality traits that come with each. What better way to thoughtfully cater to their unique personality than to get them something that was literally written in the stars?
Advertisement – Continue Reading Below
1
Best For Aries: March 21 – April 19
Food Between Friends: A Cookbook
Clarkson Potter
amazon.com
$16.40
The Aries in your life is notoriously fiery, but they're also energetic and passionate, too. Written by IRL BFFs Jesse Tyler Ferguson and Julie Tanous, you two are going to have a blast co-hosting dinner parties for your friends with this—just know you'll be the sous to their head chef. 
2
Best For Taurus: April 20 – May 20
Tea Discovery Subscription Box
Sips By
amazon.com
$16.00
The mantra "slow and steady wins the race" was practically made for Taurus. They'll think of you fondly every time they get their monthly box of tea, and again when they have a moment of peace with their cuppa every a.m.
3
Best For Gemini: May 21 – June 20
Annual Membership
Famous for being the life of every party, you're also familiar with the lesser-known side of your Gemini BFF—they can be ultra deep, thoughtful, and curious. An annual membership to MasterClass' library of courses taught by experts and celebs (think Gordon Ramsey-led cooking lessons, Nas-led storytelling classes, and even tennis lessons from Serena Williams) is bound to quench their insatiable curiosity.
4
Best For Cancer: June 21 – July 22
Custom Matte Photo Puzzle
Collage.com
amazon.com
$19.99
Look up "loyalty" in the dictionary and you may just see a pic of your ultra-loyal sis who's a Cancer. Super close to their family (chosen or built-in), they'll love the heartfelt, hilarious, or embarrassing picture you choose, then leverage their ambitious nature to ignore everyone and everything till they complete the puzzle.
5
Best For Leo: July 23 – August 22
Custom 18K Gold Plated Name Pendant Necklace
Leos love being the center of attention—whether they're loud or shy about it. Compliments are basically Leo's love language, and this gorgeous, trendy piece is going to get tons of them.
6
Best For Virgo: August 23 – September 22
Custom 2022 Planner
You've probably caught yourself thinking "I don't know how they do it" about the ambitious, enterprising Virgo in your life. This customizable, luxuriously-designed planner is high-quality and made to tolerate lots of wear (just like them!).
7
Best For Libra: September 23 – October 22
Nine-Piece Pasta Making Set
Eppicotispai
amazon.com
$44.35
Making your own pasta from scratch may sound like a daunting task, but it's bound to get the ambitious Libra in your life super excited. Rolling fettuccine dough and cutting their own ravioli with this pasta-making set is going to turn the kitchen into their new happy place (you know your Libra loves their quiet, zen time).
8
Best For Scorpio: October 23 – November 21
…I should have known that! Trivia Game
For some, trivia can be a truly emotional and tumultuous experience. For resilient and curious Scorpio, it's a total dream. Plus, it's a great space for them to show off their admirable eloquence and intellect.
9
Best For Sagittarius: November 22 – December 21
Bamboo Cheese Board Serving Tray Set
ROYAL CRAFT WOOD
amazon.com
$34.97
If this year has taught us anything, it's that there's nothing like a good charcuterie board to bring people together. Sagittarians crave playing host, so they'll love showing off this full cheese board serving tray set at their weekly Bachelorette viewing parties.
10
Best For Capricorn: December 22 – January 19
Puffer Nylon Jacket
Those iconic UGG boots can now pair with an equally cozy jacket that basically feels like a wearable blanket. Capricorns are super tough and fast-paced, so this jacket is bound to be their new go-to for all their outdoor adventures, no matter the weather. If you're looking for a more affordable alternative, this hooded sherpa is super cozy, too.
Do they live somewhere warm? Snag them these iconic Adidas sneakers from Amazon.
11
Best For Aquarius: January 20 – February 18
Virtual Emperor Penguin Adoption
Worldwide Life
Worldwide Life
$60.00
The most charitable of the zodiac signs, you're bound to get a smile (and, maybe even a tear or two) out of your Aquarius when you gift them this virtual penguin adoption. Your donation will go towards the WWF in support of their global conservation work and comes with an Emperor Penguin-themed certificate.
12
Best For Pisces: February 19 – March 20
Cloud And Moon Neon Sign
JTLMEEN
amazon.com
$13.98
There isn't a more loving, passionate zodiac sign out there. If you're lucky enough to have a Pisces in your life, avoid those logical, useful gifts and opt for this super cute neon sign that'll match their equally dreamy personality.
This content is created and maintained by a third party, and imported onto this page to help users provide their email addresses. You may be able to find more information about this and similar content at piano.io
Advertisement – Continue Reading Below